BE SURE TO READ:  Enjoy these recipes.  They give me more energy, they are delicious and they are not full of bad fat.  Keep in mind that I am not a doctor, so please consult your physician or healthcare specialist before altering your diet.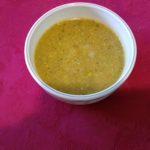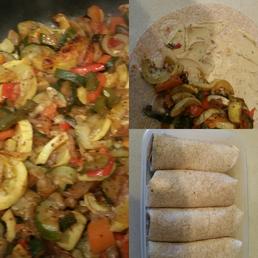 VEGE WRAPS W/ HUMMUS
2 Squash
2 Zuchinni
1 Yellow or Red Onion
1 Red and Green Pepper
1-2 Tbs of Red Pepper or Pine Nuts
Hummus
1 Pkg Whole Wheat or Whole Grain Soft Wraps
Slice Squash, Zuchinni, Onion, Peppers, mix together, brush with Olive Oil or Sunflower Oil and sautee` or bake until tender.
Spread the desired amount of Hummus onto the soft wrap, then scoop a few small spoons of the mixture onto the the soft wraps.  Fold the sides in (on the left and right) to hold the mixture in place and then while holding the sides in, roll your wrap.  Can be eaten warm or cold, but it taste better warm.  Makes about 4 wraps.
Enjoy!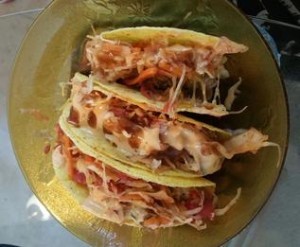 SALMON TACOS
1 Can of Salmon or Fresh Cooked Salmon
Lowfat Shredded Cheese
1 Pkg. of Coleslaw Mixture
Taco Shells
Salsa sauce
Lowfat Yogurt or lowfat salad dressing
Hot Sauce (optional)
In a small pan,  discard half of the water from the salmon and heat the salmon
In a separate pan add 1 tbs of water, add coleslaw mixture and steam slightly.  Do not cook until it is totally wilted.
Follow instructions on the package for heating the taco shells.
Once taco shells are heated, scoop approximately 2 teaspoons into the taco shells, sprinkle 1/2 teaspoon of lowfat cheese, add  coleslaw mixture.
Mix together 2 tbs of salsa and 2 tbs of yogurt to create your sauce.  For a more spicy sauce add 2 dashes of hot sauce.     Add on top of the coleslaw mixture.  Deliciously light!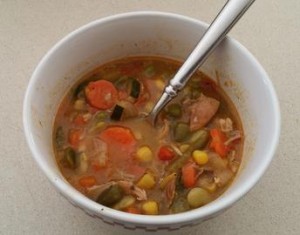 CURRY LIGHT & CHICKEN STEW  
4 Skinless Chicken Thighs
2 Tbs of Sunflower Oil
1 Pkg of mixed vegetables
2 Cups of chopped onions
1 Green, Yellow & Red Pepper
1 tsp garlic
16oz. Chicken Broth
1 Squash Chopped
1 Zuchinni Chopped
1 tsp Curry
1-1/2  tsp Pepper
1 tbs Creole Seasoning
In a Dutch Oven (Pot),  add 2 tbs of oil, heat add seasoned chicken (season with light Salt and 1/2 tsp Pepper), Cook chicken until almost done (10 or little less minutes),  turn often so it doesn't stick or burn.  Remove chicken and discard half of the excess oil, add onions, peppers, and garlic sautee` for 3-4 minutes.
Return chicken to the vegetables, add chicken broth, chopped squash and zuchinni.  Add 3-4 cups of water, add all the seasonings.  Stir all the ingredients together.  Bring to a boil, then reduce heat and let stew simmer for 40 minutes to 1 hour.  (Be sure to stir the stew periodically, so it does not stick to the pan.)