Description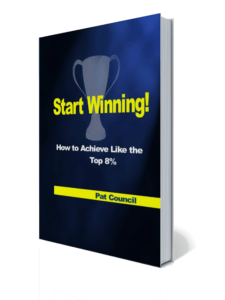 (Expanded edition of "The Power of Intentional Goal Setting") Each year 92% of those who set goals, fail to achieve them. What does the 8%, who achieve consistently, know that the 92% must know to start achieving with confidence? This step by step guidebook will put you on the path to becoming an achiever like the top 8%. Pat Council has been helping small business owners, sales people, home-based business owners and customer service representatives successfully achieve goals with consistency for more than 17 years. Now, she shares some of her techniques that make goal achievement easier. Make this your year to achieve your desires. Her step by step guidebook will help you make that happen.
TIME TESTED, PROVEN PRINCIPLES – Find out the basic principles to follow that will bring the achievement desired. Learn the truth about what it really takes to achieve your goals. Conquer fitness challenges, increase sales and income, improve business productivity, start achieving personal and family goals. Discover your true and heart-felt goals, while connecting with your most authentic self. Also, learn the secret to creating a vision board that works. This guidebook is your personal guide to building the personal and business life you want. Give yourself the freedom of achievement. Start taking control of your destiny.
SIMPLE EASY TO FOLLOW SYSTEM – Read the introduction to each lesson, answer the questions that reveals your most passionate goals, and act on your answers. Create your personal winning spree using the simple day to day strategies you will learn. Start accomplishing with consistency and clarity. Also, easily design your dream life and be clear about the most immediate goals you want to achieve.
AMAZING BONUSES – Get amazing free bonuses, which includes free entrance to our Level 1-Power Achievement Club. Get the opportunity to share and interact with others who are already achieving and view videos that make goal achievement principles easier to understand. Other bonuses include MP3s that explain how the soul and Spirit work together for achievement. Are you ready to start achieving your goals and seeing the results you have always imagined? Is it time to start achieving your sales goals, fitness goals, or other goals you desire? Become the energetic entrepreneur who knows how to accomplish business goals with consistency while overcoming challenges. Release your potential and start achieving using the strategies and proven principles provided by goal achievement strategists, Pat Council. Become the power achiever you've always imagined you could be. Find out how to use your best assets to start achieving. Understand the power of your spiritual, mental, emotional and physical energies. Treat them like power cords and discover how to use them to ignite your ability to achieve, big! If you have been getting stuck or fizzling out before completing your goals, START WINNING will give you answers that will get you back on track. The title says it all, "Start Winning" is for anyone who wants to consistently get results. If you want to achieve your personal and business goals, this is the right guide for you. Pat Council is a masterful goal achievement strategists who is extremely effective at helping others strategically design a goal achievement plan that inspires focus, creativity and ultimately get results. Make the decision to position yourself to be a power achiever.  As a goal achievement strategists, certified life coach, and certified sales coach she has coached countless number of people who have successfully achieve their goals.